Tickets available NOW - online and from the Tourist Information Centre (TIC)! See individual events for where to buy your tickets!
Procession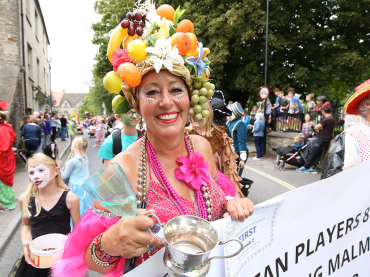 This needs no introduction; the big Carnival event and major fundraiser for local causes. Our Carnival Procession is full of fun and we can't wait for you to join in, so come along! Show your community spirit too, and 'top it off with a hat'. Click here to download an entry form. We are very grateful for continued sponsorship by Hilditch Group.
Top it off with a Hat

 Everyone turns out for the carnival procession which will mark the end of a month long celebration of our wonderful town
In this our first year as your new carnival committee we would like as many of YOU as possible, adults and children, to wear something on your head to show that you are part of CARNIVAL.
Come on, DRESS UP A BIT and support CARNIVAL!
Let's fill the streets with:
Toppers, Cowboys, Policemen, Berets, Feathers, Fascinators, Pirates, Clowns and Glitter or just invent something new!