2020 Carnival Events !!
We're adding dates to the Calendar for an exciting 2020 programme !! Keep checking back to see new dates for 2020 Events !!
This is our countdown to the 2020 Blast Off Event on 1st August. We're looking at a whole range of new and exciting fun family entertainments to give a great start to 2020 Carnival !!
Carnival were delighted to be able to make Grants totalling just under £20,000 in 2019
An 'open letter' to all those who supported Malmesbury Carnival and Festival 2019



Dear All,

We write on behalf of the Officers and Members of this year's Carnival Committee to formally 'Thank You' for your continued support of Malmesbury Carnival and Festival. Without your interest, enthusiasm and willingness to get involved, 2019 would not have had such a successful outcome.

So many of you came forward to offer your skills, abilities, talents and experience without asking anything in return other than to be part of this wonderful town's activities. As a result of such generosity , Carnival was able to provide more than 40 different experiences in addition to those well-established events such as Petticoat Lane, Open Gardens, Music in the Cloisters and, of course, the Carnival Procession.

If you were one of those people who hosted an event for Carnival or provided entertainment at an event or who organised groups of other volunteers to support any of the events throughout August, please accept the committee's grateful thanks - Carnival could not happen without you.

If you were amongst the many who came to support and enjoy the events or to dress up for the Carnival Procession, again, please accept the grateful thanks of the committee - your support and enthusiasm helped create such a positive atmosphere around the town. One of the greatest gifts we can offer each other is the gift of  Time and this precious commodity was given freely by so many of you over the course of Carnival and Festival.

As a new committee we faced Carnival 2019 with a healthy degree of anxiety despite the support provided by those with so much previous experience . We need not have worried! The town came forward and made sure that Carnival was a success.

You will be pleased to know that through everyone's generosity, the Carnival Charity will have in excess of £19,000 to donate to local charities and voluntary organisations and the Trustees are looking forward to receiving applications from the local community.

We were blessed with wonderful weather and massive support. We very much hope to be at least as successful next year. Roll on 2020!1

Thank you all once again.


Mike Harding          Paul Overton         Linzi Renshaw      Will Taylor
( Co-Chair)             (Co-Chair).              (Secretary).           (Treasurer)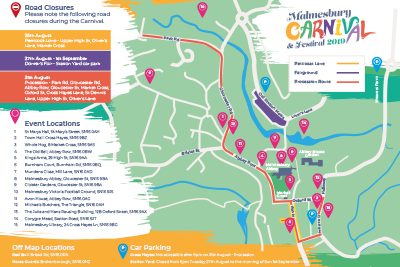 MALMESBURY CARNIVAL VENUE MAP, CAR PARKING & ROAD CLOSURES
30th Aug 2020: Petticoat Lane - Upper High St, Oliver's Lane, Market Cross
1st Sept - 6th Sept 2020: Danter's Fair - Station Yard car park
5th Sept 2020: Procession - Park Rd, Gloucester Rd, Abbey Row, Gloucester St, Market Cross, Oxford St, Cross Hayes Lane, St Dennis Lane, Upper High St, Oliver's Lane
DOWNLOAD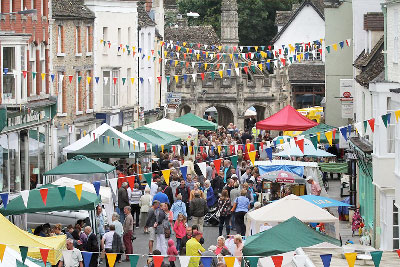 MALMESBURY CARNIVAL PETTICOAT LANE
Stroll down our wonderful high street filled with incredible stalls, meeting friends and locals as you seek out unbelievable bargains. If you would like a pitch, click here to download a form or
click this link
to email us for more information.
MORE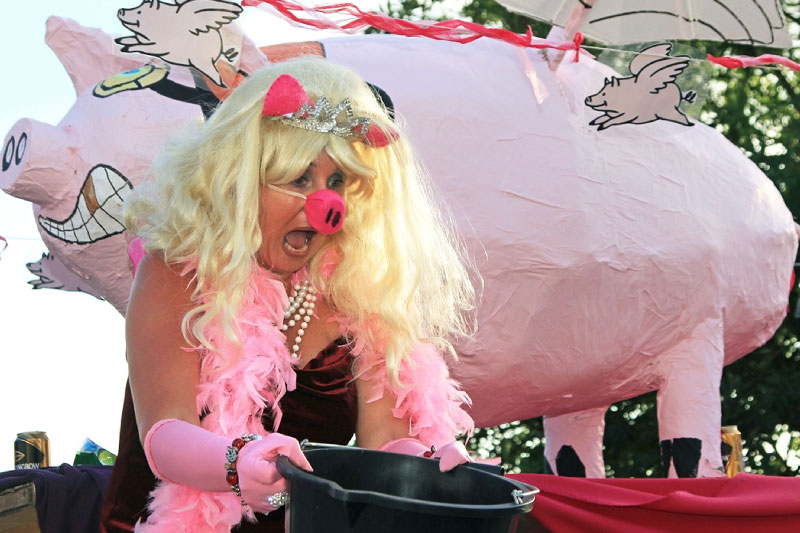 MALMESBURY CARNIVAL PROCESSION
This needs no introduction; the big Carnival event and major fundraiser for local causes. Our Carnival Procession is full of fun and we can't wait for you to join in! Show your community spirit and 'top it off with a hat'.
MORE
What does the carnival month
mean to Malmesbury?
Thank you to our Carnival Sponsors, without you, this would not be possible!

Malmesbury Carnival 2019 News